Carrie Underwood and husband, Canadian NHL player Mike Fisher, were recently married at the hotel they booked for their wedding day: the Ritz-Carlton Lodge in Greensboro, Georgia. The hotel was reserved exclusively for the wedding, and anyone not wearing a wedding party wristband was to be escorted from the premises. According to worldcontributor.com, celebrity guests included country singing stars Tim McGraw and Faith Hill and American Idol judges Simon Cowell, Paula Abdul and Randy Jackson. Carrie Underwood and Mike Fisher had approximately 250 guests attending the wedding. The dress Underwood wore was created for her by designer, Monique Lhuillier, a fashion designer known for extravagant wedding gowns. The designer also designed the bridesmaids' dresses for Underwood. The wedding featured classical music and the couple's favorite Bible readings. It sounds like the wedding was very low-key and more normal according to attendees compared to other hollywood celebrity weddings.
New photos of the couple at their wedding have not yet been released. Carrie Underwood has been seen sporting a potential new trend in white dresses recently though, none of which are her wedding dress that was designed by Lhuillier. Are white dresses a new trend hitting the red carpet this summer?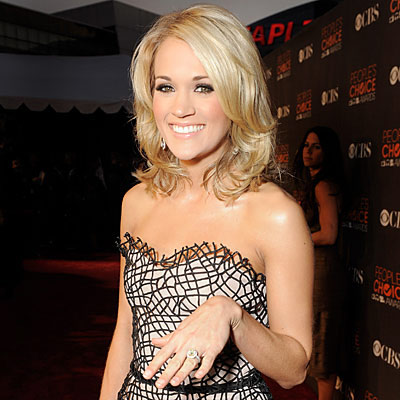 Now, since their happy wedding date, the couple has traveled out of the States to honeymoon in Tahiti (Photos from Daily Mail Online). There romantic getaway will be spent relaxing and enjoying time together as a newly married couple. Carrie let husband Mike Fisher be in charge of the Honeymoon plans, and they both seem happy with his choice! Tahiti was an excellent choice for a romantic getaway, and has also been featured as a destination on ABC's show The Bachelorette.