In an industry that has become saturated with celebrities going under the knife, and an industry that has for years paraded fake hair, fake breasts, fake eyelashes and makeup that can look like it's been plastered on with a spackle knife, it's refreshing to see some stars becoming more comfortable showing us what they really look like.
It's not an incredibly popular trend, and maybe it never will be, but celebs appearing without makeup, or in un-retouched photos is starting to happen more and more. Jessica Simpson appeared on May 2010 cover of Marie Claire, claiming that her face was make-up free for the entire photo shoot. Britney Spears recently allowed an un-retouched photo from one of her Candies campaign shoots to be released next to an "after" image that showed airbrushing all over her body. Meanwhile, some in the public eye, like the notoriously aggressive fashion publicist, Kelly Cutrone, are known for rarely, if ever, wearing makeup to begin with.
But is this real? Are these stars really appearing without makeup? How much are we really getting to see here?
"I think she was at a place in her life where she felt comfortable doing it," said Marie Claire's editor-in-chief, Joanna Coles, about Jessica Simpson's decision to appear fresh-faced and natural in their recent issue. Simpson is the only celeb who has agreed to do so for the magazine, says Coles, despite the fact that they've asked many others, according to MSNBC.com.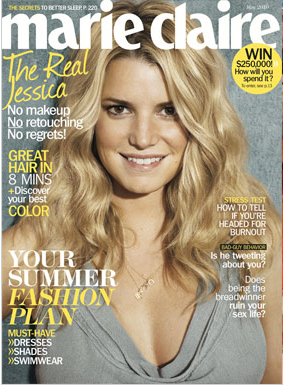 (via FashionIndie.com)
Apparently Simpson was inspired by her new VH1 show, "The Price of Beauty." The show finds Simpson traveling around the world with two friends to research the standards and practices of beauty in other cultures.
Having been criticized by the media for her recent weight gain, Simpson spoke during a recent appearance on Oprah about examining what it meant for her to be in the public eye, and to be judged for wearing a size 2 verses a size 6.
"I think it changed the way she thought about things. I think making that (VH1) show was really quite a profound experience for her," Coles said. "There was something very liberating for her about doing this."
I actually bought the issue of Marie Claire with Jessica Simpson on the cover because I was excited to see her without makeup. As someone who has to be dragged kicking and screaming into the makeup chair for most photo shoots and videos in which I participate, I always love seeing people - whether they are my own friends, or celebrities - without makeup on.
But I have to admit, I was a little disappointed when I sat down with the magazine. First of all, Simpson does look fresh-faced and natural on the cover. But if you look closely, it seems like she might be wearing some kind of eyeshadow. It's hard to believe that her eyes look that naturally. And if she does look like that without a stitch of makeup on, I wish she'd appear naturally more often!
Then, when I flipped to the inside article about Simpson, with more photos of her supposedly un-madeup, I had to laugh. All of the images seem to be strategic shots that position her in the perfect light, with her face tilted at some odd angle, or with shadows or strands of her own hair or even plants hilariously covering up much of her face.
I don't understand! Why can't we just see her face, without shadowing or without helpful angles. It's ridiculous! If you're going to show us what this woman REALLY looks like, then SHOW US. Don't play at it, or hint at the idea that if we could just brush those weird strands of hair off her face, we'd really get to see Jessica Simpson without makeup. (Click here to see the rest of Jessica's photos from the May 2010 issue of Marie Claire.)
I love that celebrities are starting to do things like this, and I hope to see more and more of it in the future. It's certainly a step in the right direction, but it seems we still have a long way to go before we get to see celebrities without makeup for REAL.